19 Principles of Effective Instruction Demonstrated by Three Distinguished Artist-Teachers in Music
---
These pages present text and media materials from a research investigation concerning the principles of effective instruction in music. The bibliographic reference for the full report is:
Duke, R. A., & Simmons, A. L. (2006). The nature of expertise: Narrative descriptions of 19 common elements observed in the lessons of three renowned artist-teachers. Bulletin of the Council for Research in Music Education, 170, 1-13.
A pdf of the article is available here.
Duke, R. A. & Simmons, A. L. (2006)
Abstract
We examined approximately 25 hours of video recordings of private lessons taught by three internationally recognized artist-teachers: the oboist Richard Killmer, the violist Donald McInnes, and the pianist Nelita True. By creating detailed narrative descriptions of the lessons observed, we sought to determine whether there were elements of instruction that appeared in the teaching of all three pedagogues. We identified 19 such elements, which we organized in three broad categories: Goals and Expectations, Effecting Change, and Conveying Information. All of the 19 elements, which we describe in detail, were prominent features in the lessons taught by all three teachers.
---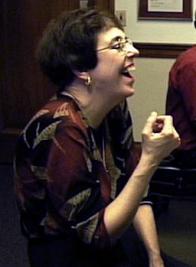 Sections of the full report are reprinted here, along with videotaped illustrations of the principles of instruction that we observed in context. You may read the text of the report by clicking on the links at the right for the sections of the paper, or you may click on any of the principles listed in the lower portion of the menu on the right to go directly to the video illustrations. We provide video examples of all those elements that are observable in a relatively brief time span. We did not create excerpts for other elements, such a repertoire assignment, for which no obviously observable momentary behavior is present.
To view the videos in the Results section, click on an image to to view each example. These pages work best with high-speed internet connections and high quality speakers.
---
We are greatly indebted to the participants in this research, Don McInnes, Richard Killmer, Nelita True, and their students, all of whom graciously permitted us to observe and analyze their work. Their generosity has certainly contributed to our understanding of expertise in our discipline by providing us a window into their effectiveness as artist-teachers.
This research was funded by a grant from the Walter and Gina Ducloux Fine Arts Fellowship Endowment and by the Marlene and Morton Meyerson Centennial Professorship in Music and Human Learning at The University of Texas at Austin.