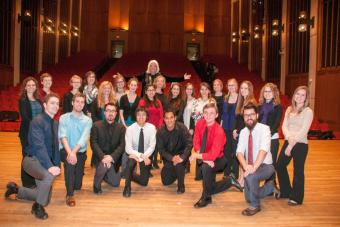 Heralded by musicians and teachers throughout the world as one of the finest programs in teacher training and string instrument instruction, The University of Texas String Project has been honored with numerous national awards, including the First Education Institution Award, which recognized the String Project as the most significant program in strings among American colleges and universities. Tens of thousands of people are playing string instruments today as a result of the far-reaching effects of the String Project, which has served as a national model for the education of teachers and young string players. Attracting students from almost every state in the US and countries abroad, the String Project has developed the skills of hundreds of teachers who gone on to found and develop string programs in primary and secondary schools, universities, and private studios.
The idea for the String Project at The University of Texas at Austin came about in the years following World War II, when there was a serious shortage of string teachers in the US. Albert Gillis, in 1948, was determined to tackle the teacher recruitment challenge by developing an imaginative program for the educaiton of string teachers. Together with E. William Doty, founding dean of the UT College of Fine Arts, Gillis founded the Junior String Project and served as its director until 1958. He was succeeded by Professor Phyllis Young, who took over the newly christened University of Texas String Project and served as director for 35 years.
Since Professor Young's departure, the String Project has been led by Dr. Anne Witt, 1993-1995, Susan Wallace, 1995-1997, Linda Jennings, 1997-1999, Christine Crookall, 1999-2001, Jessica Gilliam-Valls, 2001-2002, and Dr. Laurie Scott, 2002-present.
Behind every great teacher, there's another great teacher.